A beautiful well-oriented tourist hotel or luxury hotel templates free by using HTML5, CSS3, JavaScript, and Bootstrap. This website design you can use as a resort website template or hotel website management template, a five-star hotel template for free. In this project, bootstrap is included so that you can call this project a bootstrap 4 hotel template. If you want to add a backend in PHP, these hotel website templates will be hotel management websites.
Tourist Hotel – Luxury Hotel – Website Design Template 100% Free download – FreeWebsiteCode
This hotel website design template has some pages like home about us, rooms, amenities, booking, login, and contact us pages. On the home page, several sections are displayed some of the names are header-navbar, image sliders, hotel booking, Amenities & Services, Our rooms, Subscribe for a special offer, Room booking, click below to call us, and footer.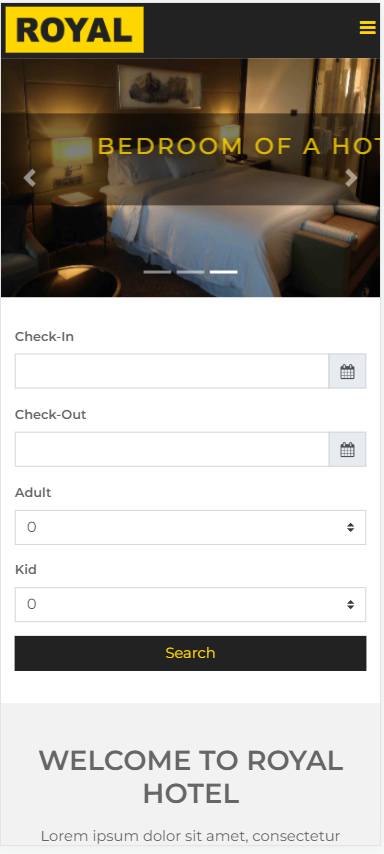 In header section has this website logo and in the middle has menus home, about us, rooms, amenities, booking, login, and contact us. After that has a phone number. Under this has the hotel website template's important part which is an image slider. The demos image slider name is Luxury hotels at night, Atlantis Dubai, and bedroom of a hotel. The next section is check-in and check-out search options for hotel booking customers and a welcome to the royal hotel about text with the book now button. Tourist Hotel – Luxury Hotel – Website Design Template.
Responsive Header / Navbar with toggle menu bar effect.
Responsive home section using flexbox.
Responsive specialty section with hover effects using flexbox.
Responsive popular product card section using flexbox.
Responsive image gallery with hover effect section using flexbox.
Responsive steps section using flexbox.
Responsive review card section using flexbox.
Responsive order contact form section using flexbox.
Responsive footer section.
Loading animation with fade-out effect using JavaScript.
Scroll to the top button using JavaScript.
Some Amenities and services are available with nice related icons:
Airconditioner
2. Bathtub
3. Shower
4. Television
5. WiFi
6. Telephone
7. Mini-Bar
8. Kitchen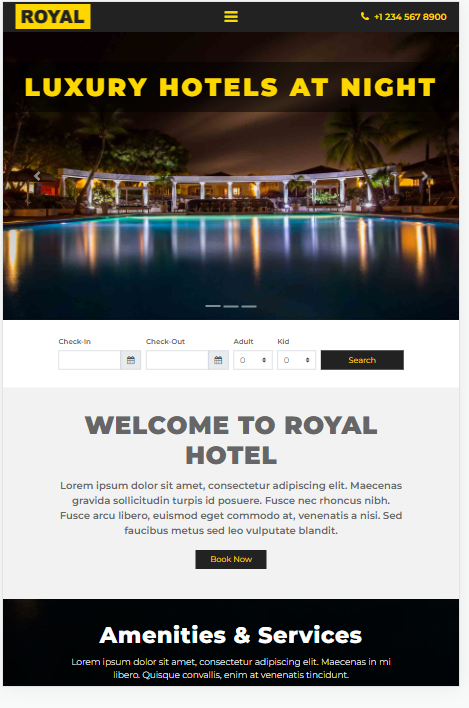 At our rooms sections in the hotel, the website template contains room images with details of size, beds, and all available facilities with the price and book now option. Some other rooms are standard double, premium single, Silver double, and premium double all rooms have a price and book now button. Visitors of this hotel website template can book a hotel room. To give a special offer to the customer an email submission form will help to do that. Next, a room booking form has several fields First name, Last name, Mobile, Email, Check Check out the date, and if any special request, and a button to book now. And at the last click below to call us button with a number and footer area have social icons with links available to this free hotel website design templets.
All Links in Below:
---
---
---
Join Our Freewebsitecode Facebook Group to get an instant update for projects, templates, design resources, and solutions.
Join Our YouTube Channel & Subscribe with Bell Icon for New Video:
Join Our Official Facebook Page For the Latest updates All Code Projects are Free:
Visit our service page to get premium services.
Free Website Code – HTML CSS, PHP, JavaScript Programming Projects For Free
Follow Us
Thank You,
Follow Us
https://facebook.com/freewebsitecode/
►►𝐃𝐨𝐧'𝐭 𝐅𝐨𝐫𝐠𝐞𝐭 𝐓𝐨 𝐒𝐮𝐛𝐬𝐜𝐫𝐢𝐛𝐞 ►►
https://www.youtube.com/channel/UC9HlQRmKgG3jeVD_fBxj1Pw/videos
LIKE | COMMENT | SHARE | SUBSCRIBE
FreeWebsiteCode.com tries to provide HTML, CSS, SCSS, JavaScript, React, Android Studio, Java, PHP, Laravel, Python, Django, C#(C Sharp), and ASP.net-related projects 100% free. We try to make learning easier. Free Website Code always tries to give free projects to those who are new learners. Free projects and source code will help to learn easily. They can save time and learn more.
Follow Us
Thank You,
Stay with FreeWebsiteCode.com