Education website templates design layout with HTML CSS. this online education website template with some features like the latest courses, students testimonials, features, and a get in touch section is available with the source code.
In this digital era, education is not limited to classrooms. Education is available online and it is also accessible to everyone. Online education websites can be found in different forms and shapes but the most popular form of an online education website is a website template that has been designed for the purpose of providing information about educational institutions.
Website templates for educational institutions can be downloaded for free from many websites on the internet. It does not matter whether you are looking for an HTML website template or a CSS website template, there will be plenty of options available on the internet with some being better than others depending on your requirements and preferences.
This article will help you to find the best educational website templates for your online education website.
There are many free templates available on the internet that can be used for education websites. These templates are easy to use and have a lot of features.
Full Website Home Page Image: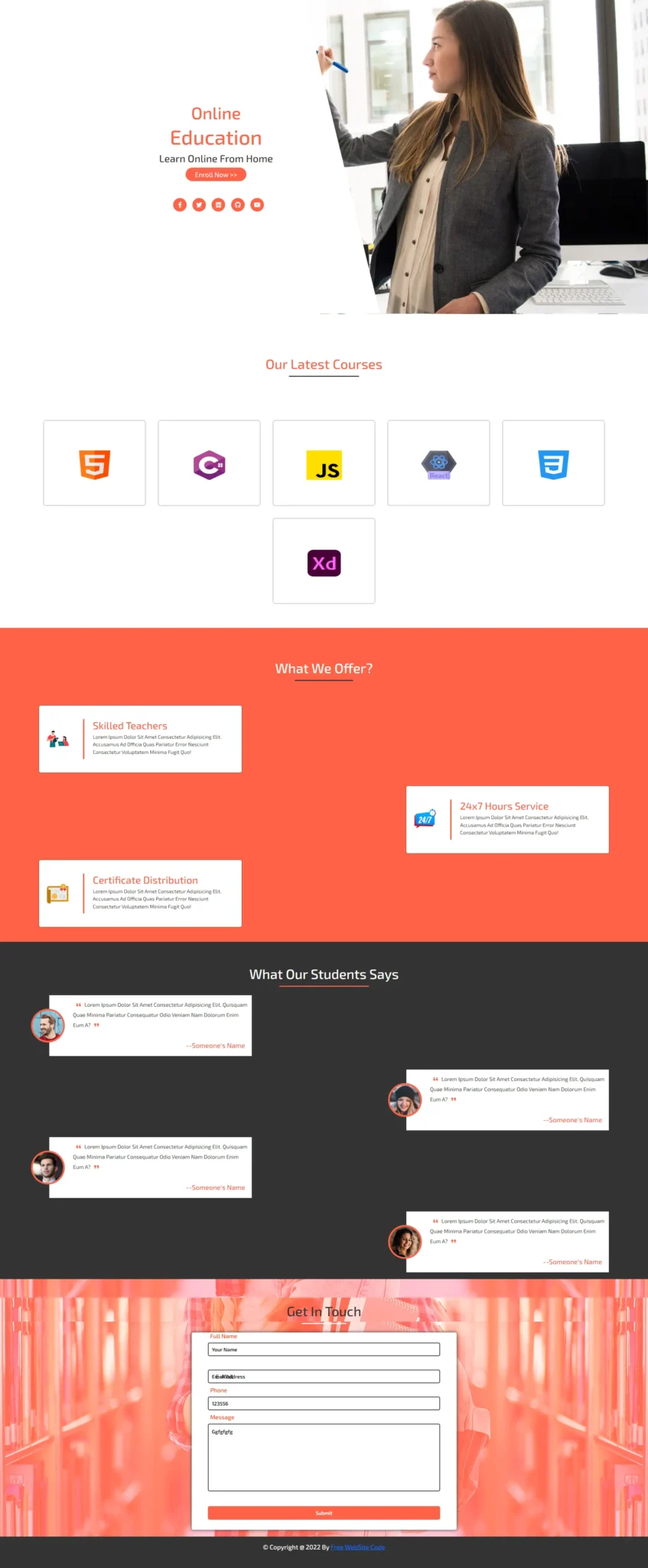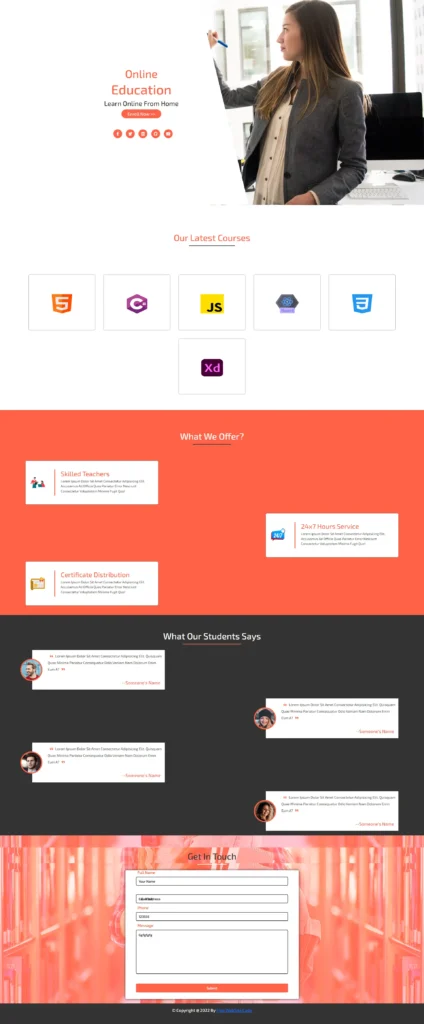 The advent of the internet has made it easier for people to learn anything from anywhere at any time. Online education websites are becoming more and more popular as a way to teach and learn. The web is a great resource for learning because it provides an interactive experience that includes videos, quizzes, simulations, games, and other multimedia materials.
Educational website templates are available in many formats including HTML with CSS. These templates are especially helpful for those who want to create their own online education website without having to spend too much time on coding or design.
All Links in Below:
---
---
---
Join Our Freewebsitecode Facebook Group to get an instant update for projects, templates, design resources, and solutions.
Join Our YouTube Channel & Subscribe with Bell Icon for New Video:
Join Our Official Facebook Page For the Latest updates All Code Projects are Free:
Visit our service page to get premium services.
Free Website Code – HTML CSS, PHP, JavaScript Programming Projects For Free
Follow Us
Thank You,
FreeWebsiteCode.com tries to provide HTML, CSS, SCSS, JavaScript, React, Android Studio, Java, PHP, Laravel, Python, Django, C#(C Sharp), and ASP.net-related projects 100% free. We try to make learning easier. Free Website Code always tries to give free projects to those who are new learners. Free projects and source code will help to learn easily. They can save time and learn more. In this post, we share a free portfolio project website code with HTML and CSS. This free code portfolio contains a single landing page with a responsive design. In this post, we get a free best carpenter and craftsman service website designed by FreeWebsiteCode with HTML, CSS, Bootstrap, and JavaScript.