Simple website making with HTML CSS and javaScript. This website template you can use on your own project or by doing coding practice of simple website you can learn more HTML CSS and javascript.
This website has an awesome layout design. Simplicity is important for this website design. We try to code and design as simple as possible for you. A beginner can understand the basic code of HTML CSS and javascript with this simple website.
Like All other websites section header, hero section, services, gallery, testimonials, and footer sections are all available on this simple website. We encourage you to learn from this simple website and enhance your HTML CSS and javascript skills.
Here is a snapshot of this simple website header and hero section design: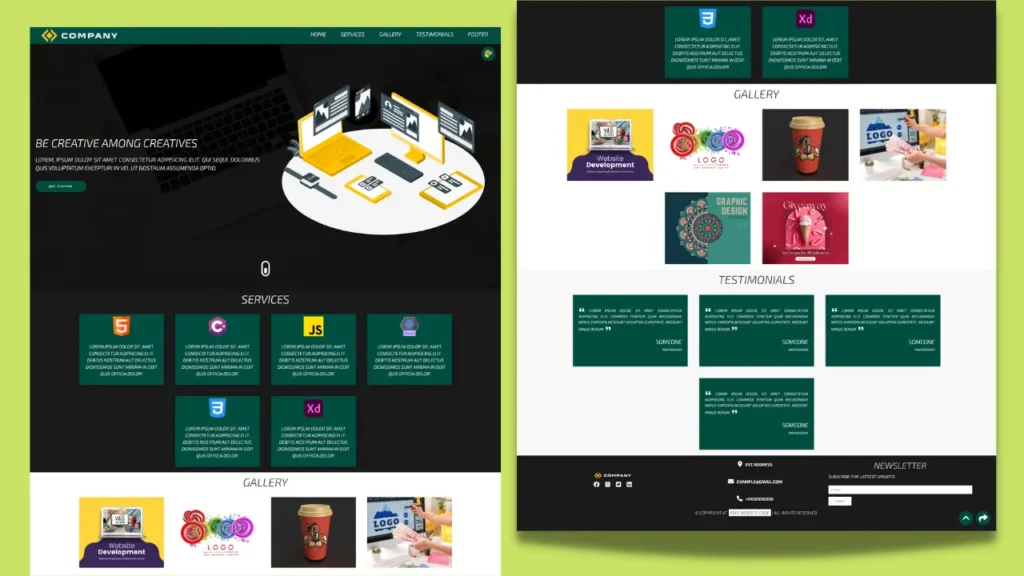 This template is a simple website but with a good interface. You can make your own project with this template or learn more about HTML CSS and javascript.
I'm a freelance web designer and developer. I have made this website a free HTML website template to help people learn more about HTML, CSS, and javascript.
This simple website features:
Unique header design
Multiple color selection systems for users.
Responsive web design.
Using a simple website layout
on click menu section jumping.
On click footer to top jumping functionality
Quick Social share
And Much More
Full Website Layout Design Image: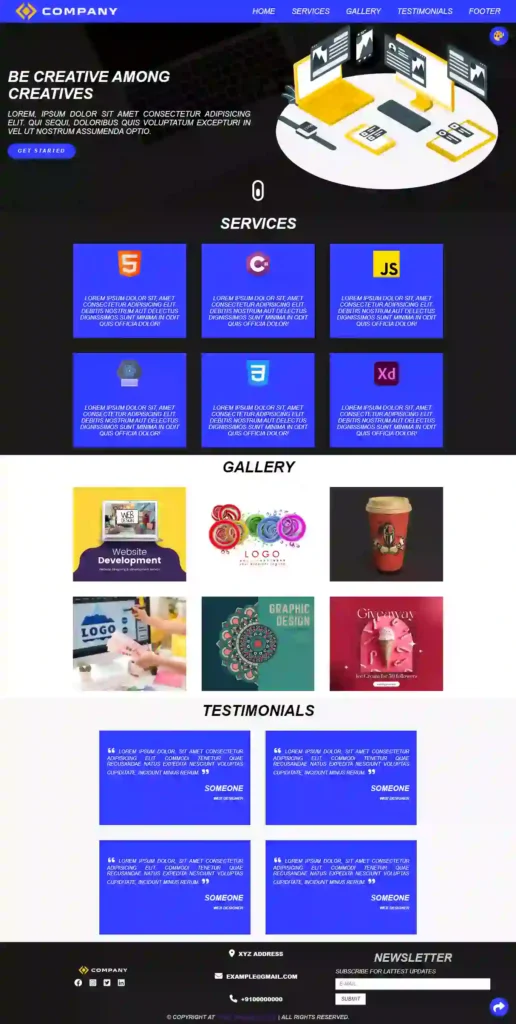 How to create a website? This tutorial will teach you how to make a simple website and use HTML, CSS, and javascript. You will learn how to make a website layout with a grid system, a menu with a dropdown style, a button with box-sizing property, a content slider, and more.
All of these features with extra features are available with this simple website design. You can download this simple website source code for free no need to pay any dollar. You also can use this simple website on any project.
All Links in Below:
---
---
---
Join Our Freewebsitecode Facebook Group to get an instant update for projects, templates, design resources, and solutions.
Join Our YouTube Channel & Subscribe with Bell Icon for New Video:
Join Our Official Facebook Page For the Latest updates All Code Projects are Free:
Visit our service page to get premium services.
Free Website Code – HTML CSS, PHP, JavaScript Programming Projects For Free
Follow Us
Thank You,
FreeWebsiteCode.com tries to provide HTML, CSS, SCSS, JavaScript, React, Android Studio, Java, PHP, Laravel, Python, Django, C#(C Sharp), and ASP.net-related projects 100% free. We try to make learning easier. Free Website Code always tries to give free projects to those who are new learners. Free projects and source code will help to learn easily. They can save time and learn more. In this post, we share a free portfolio project website code with HTML and CSS. This free code portfolio contains a single landing page with a responsive design. In this post, we get a free best carpenter and craftsman service website designed by FreeWebsiteCode with HTML, CSS, Bootstrap, and JavaScript.