Food ordering cuisine restaurant website template design with HTML, CSS, bootstrap, jquery, and javascript. You can use this template on any restaurant which has a party reservation system with also food or menu ordering system embedded in the website for the customer. You can download this awesome-designed restaurant website template for free from our website freewebsitecode.com. Food Ordering – Cuisine – Restaurant Website Design Template.
This restaurant website template has several pages with different sections. Some pages like home, about, menu, online order, dropdown, and contact pages are available in this restaurant design website template. The home page has some sections like header-navbar, reservations, welcome to Italian cuisine, about us, delicious food menu, meet our chef, food lovers, contact us, get latest food info, and footer area available.
In header section has a restaurant website logo in the center under this all of the page's menus are showcased, Then the reservations section with date, time, party size, and data form is located and a book now button is placed there for submitting input data.
Food Ordering – Cuisine – Restaurant Website Design Template -100% Free Project – FreeWebsiteCode
Tablet Responsiveness test: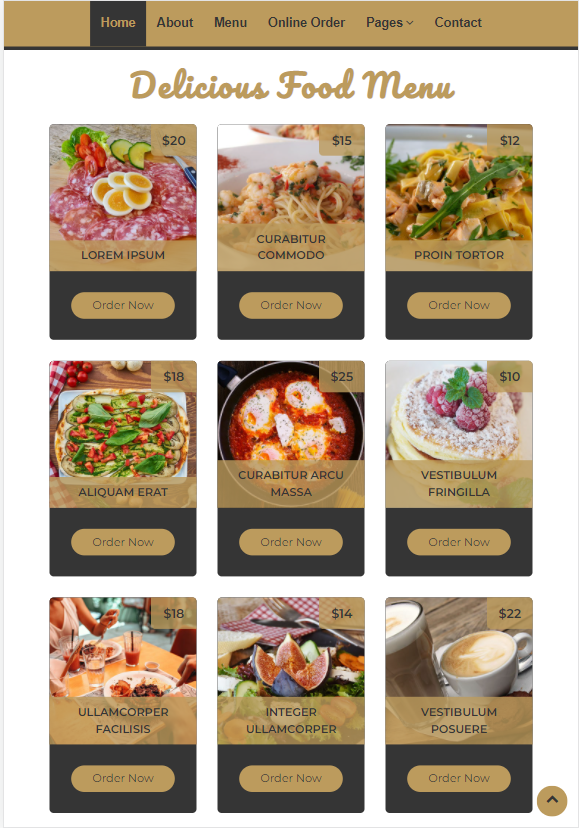 Responsive Header / Navbar with toggle menu bar effect.
Responsive home section using flexbox.
Responsive specialty section with hover effects using flexbox.
Responsive popular product card section using flexbox.
Responsive image gallery with hover effect section using flexbox.
Responsive steps section using flexbox.
Responsive review card section using flexbox.
Responsive order contact form section using flexbox.
Responsive footer section.
Loading animation with fade-out effect using JavaScript.
Scroll to the top button using JavaScript.
Awesome fonts are used on the whole website.
In the about us section which is a well-designed restaurant image with a social button and some text is placed. After that delicious food menus have some food products showcased here with their price image and food menu name. Customers can order now by hitting the button Order Now. On the meet, our chef has some restaurant chef's images with their name, and social links placed. Under this, some of the customers who visited this restaurant and buy some delicious foods their valuable opinions are displayed here. All testimonials are slid automatically on the website.
Mobile Responsiveness Test:
Next on the contact, us section has four blocks Opening hours, contact info, Google map, and a form. Opening hours contain week-to-date and time, Contact info contains location, phone number, and email address. On the Google Maps section embedded restaurant google map area. The contact form has your name field, your email, subject, and message field with submit button which sends the message. To get the customer's email address, an email submission form is placed under the contact us section.
The footer area has copyright text with social media icons and links are available here.
All Links in Below:
---
---
---
Join Our Freewebsitecode Facebook Group to get an instant update for projects, templates, design resources, and solutions.
Join Our YouTube Channel & Subscribe with Bell Icon for New Video:
Join Our Official Facebook Page For the Latest updates All Code Projects are Free:
Visit our service page to get premium services.
Free Website Code – HTML CSS, PHP, JavaScript Programming Projects For Free
Follow Us
Thank You,
Follow Us
Thank You,
Stay with FreeWebsiteCode.com
Share the post if necessary.
FreeWebsiteCode.com tries to provide HTML, CSS, SCSS, JavaScript, React, Android Studio, Java, PHP, Laravel, Python, Django, C#(C Sharp), and ASP.net-related projects 100% free. We try to make learning easier. Free Website Code always tries to give free projects to those who are new learners. Free projects and source code will help to learn easily. They can save time and learn more. In this post, we share a free portfolio project website code with HTML and CSS. This free code portfolio contains a single landing page with a responsive design. In this post, we get a free best carpenter and craftsman service website designed by FreeWebsiteCode with HTML, CSS, Bootstrap, and JavaScript.