News portal website design by using HTML, CSS, Bootstrap, and Javascript. This website has all kinds of news functionality like feature images, images for advertisement, Breaking news titles, Trends news, etc. you can download this website source code 100% free code download. News portal website developed by using HTML, CSS, Bootstrap, and Javascript. You can use this as a news portal website template for your project. News Portal Website Design template – HTML-CSS-JavaScript – 100% Free Source Code
The News portal website has several sections like a header with a logo and menu, a Breaking news bar, Feature news post images, Feature news by categories, Latest news, and right side many social media links with buttons. Advertisements and trending news columns on the right side of the website, Newsletter, and all kinds of popular tags are displayed here. On footer section have four widgets getting in touch, popular news, categories, and some flicker photos.
News Portal Website Design template – HTML-CSS-JavaScript – 100% Free Source Code – FreeWebsiteCode
Mobile Responsiveness test: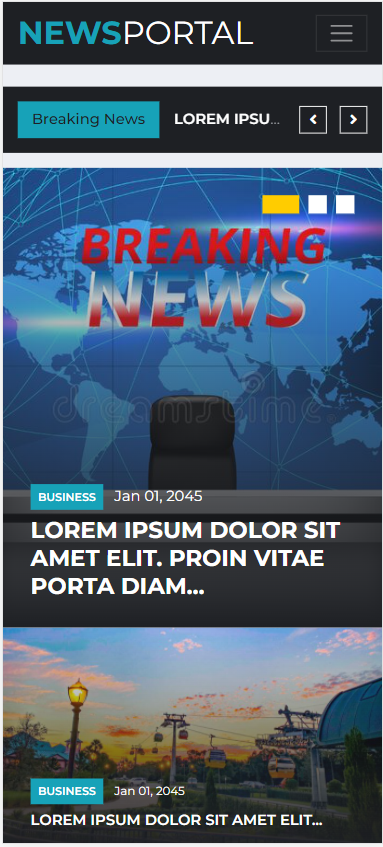 The topbar section left side of the website has a date, advertise, contact, and login buttons. Under that has the news portal logo and the right side contains an advertisement image to display to the visitors. Then below has a menu bar that contains some menus like home, category, single news, dropdown, and contact. on the right side of the menu have a search bar to search the whole website for visitors. The breaking news bar has an automated sliding news title which makes a customer attractive for getting more click rates.
The Featured News section contains around four-post which are designed with the image titles and categories. On the right side have sliding icons that help to slide four-title images. By setting any category that category's post will be showcased here as example Business category posts are set to display on this feature news section.
The latest News section contains multiple categories of posts here all new and recent post is updated here and displayed to the visitors. On the right side of the latest news, there is another section called follow us. in this section, all social media link is set up here like for example Facebook, Twitter, LinkedIn, Instagram, Youtube, and Vimeo. Under the latest news section, an image is set for advertisement, and some of the articles are shown here. On the right side, a column-based section is added named trends news. By categorizing some articles as trends those will appear here. A newsletter section was added here for collecting emails from visitors and a tag section add for popular tags by clicking on tags all tags-related posts will be shown to the visitor on the new page.
Tablet Responsiveness Test: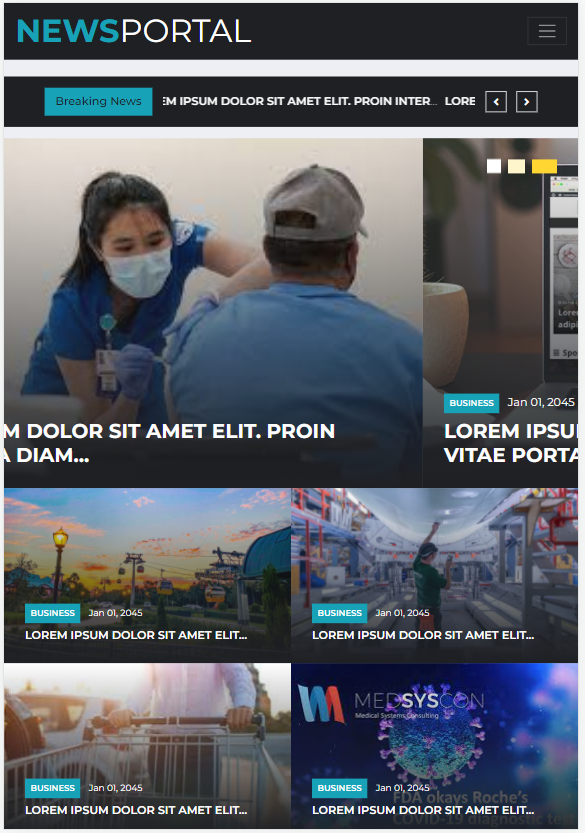 On footer section have four widgets getting in touch, popular news, categories, and some flicker photos. Under get in touch location, phone number email, and follow us social media buttons are displayed here. Under popular news, some most viewed articles appear here. Under category, all categories are displayed by clicking on these categories' buttons. all the categories posted will be visible to the visitor on the next page. Under Flickr photos, some attractive images will be displayed here.
All Links in Below:
---
---
---
Join Our Freewebsitecode Facebook Group to get an instant update for projects, templates, design resources, and solutions.
Join Our YouTube Channel & Subscribe with Bell Icon for New Video:
Join Our Official Facebook Page For the Latest updates All Code Projects are Free:
Visit our service page to get premium services.
Free Website Code – HTML CSS, PHP, JavaScript Programming Projects For Free
Follow Us
Thank You,
Follow Us
https://facebook.com/freewebsitecode/
►►𝐃𝐨𝐧'𝐭 𝐅𝐨𝐫𝐠𝐞𝐭 𝐓𝐨 𝐒𝐮𝐛𝐬𝐜𝐫𝐢𝐛𝐞 ►►
https://www.youtube.com/channel/UC9HlQRmKgG3jeVD_fBxj1Pw/videos
LIKE | COMMENT | SHARE | SUBSCRIBE
FreeWebsiteCode.com tries to provide HTML, CSS, SCSS, JavaScript, React, Android Studio, Java, PHP, Laravel, Python, Django, C#(C Sharp), and ASP.net-related projects 100% free. We try to make learning easier. Free Website Code always tries to give free projects to those who are new learners. Free projects and source code will help to learn easily. They can save time and learn more.
Follow Us
Thank You,
Stay with FreeWebsiteCode.com
Share the post if necessary.
FreeWebsiteCode.com tries to provide HTML, CSS, SCSS, JavaScript, React, Android Studio, Java, PHP, Laravel, Python, Django, C#(C Sharp), and ASP.net-related projects 100% free. We try to make learning easier. Free Website Code always tries to give free projects to those who are new learners. Free projects and source code will help to learn easily. They can save time and learn more. In this post, we share a free portfolio project website code with HTML and CSS. This free code portfolio contains a single landing page with a responsive design. In this post, we get a free best carpenter and craftsman service website designed by FreeWebsiteCode with HTML, CSS, Bootstrap, and JavaScript.