Woodpecker best carpenter and craftsman service website where you can display all kinds of wood-related services like general Carpentry, Furniture Manufacturing, Furniture Remodeling, etc. This free Woodpecker portfolio website has around ten sections menu, carousel feature image, countdown, about us, our services, why choose us, our projects, free quote, team members, testimonial, and lastly footer section. Best Carpenter & Craftsman Service Website Design-HTML-CSS-JavaScript-100% Free Source Code Download
In menu section here contains the Woodpecker logo menu, Home, About, Service, Project Pages with the drop-down, contact, and get a quote button which makes this website call to action.
Best Carpenter & Craftsman Service Website Design-HTML-CSS-JavaScript-100% Free Source Code Download
In carousel feature image section contains the message welcome to woody best carpenter and craftsman services title and under this title, you can add some text about your wood services. On Read more and Free Quote button helps users to read more about the services and here Free Quote works like the call to action button. in this carousel section, you can add multiple carousel images which are related to your wood services.
In the countdown, the section describes how your expertise with your services and how many creative designers, quality products, and free consultation and customer support you provided. So by seeing this section visitors easily make a decision is take your wood service or not. You should put your all options total number here.
In About us section on the left side showed your service-related feature image and the right side tells something about your wood services company, your current happy clients, and your project number. and a button explores more which can provide a explore visitor to know more about your services.
In our services section here you should put all of your wood-related services like General Carpentry, Furniture manufacturing, Furniture Remodelaion, Wooden Floor, Wooden Furniture, Custom work, etc. All of your providing services should be visible here and by the services name, some text will be visible under the service name and a button read more will help to read more about services.
Why Choose Us section, On the right side, an image, and on the left side have why you choose us text under this, you are providing quality services, creative designers, free consultation, and good customer support.
In our projects section, all of your wood services projects should be showcased here. this design has project categories and clicks to show all projects should be a visible option available here. Like demo project named general carpentry have two projects wooden furniture manufacturing and remodeling, wooden furniture manufacturing and remodeling. And on custom carpentry categories wooden furniture manufacturing and remodeling, wooden furniture manufacturing, and remodeling are available.
Tablet View for Responsiveness:
For a free quote, the customer can send a message if he or she has any queries about your services. which makes direct contact with you. A form that contains Your Name, Your Email, Your Mobile, Select A Service, and a special note option to make a proper message from a customer.
In the Team Members section, you can display your current team members with their designations.
In the next Testimonial, the section has your customer's opinion about your services. this testimonial section has a carousel slide show system to slide and show all of your customer's opinions are here.
The footer has four widgets like Address which can display your service address, phone number, business email, and all of your social account links. Next Services widgets display all service categories like general carpentry, Furniture Remodeling, Wooden Floor, Wooden Furniture, and Custom Carpentry. Quick links widgets display all of the important links like About us, Contact Us, Our Services, Terms and condition, and support. The Newsletter widgets encourage customers or visitors to subscribe to your newsletter by providing the customer's email addresses.
Responsive Checking on Mobile :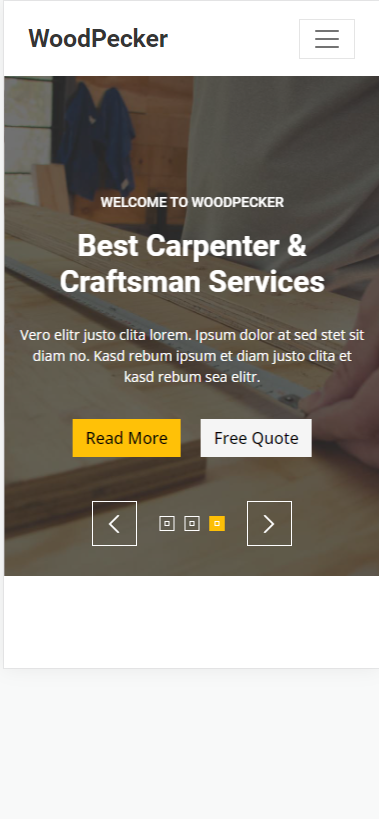 To get free website project code,
Keep bookmarking our website, Save categories links, Follow Social Media, Follow the YouTube channel Join Facebook groups.
Stay with FreeWebsiteCode.com
Share the post if necessary. Sharing is caring.
All Links in Below:
---
---
---
Join Our Freewebsitecode Facebook Group to get an instant update for projects, templates, design resources, and solutions.
Join Our YouTube Channel & Subscribe with Bell Icon for New Video:
Join Our Official Facebook Page For the Latest updates All Code Projects are Free:
Visit our service page to get premium services.
Free Website Code – HTML CSS, PHP, JavaScript Programming Projects For Free
Follow Us
Thank You,
Follow Us
https://facebook.com/freewebsitecode/
►►𝐃𝐨𝐧'𝐭 𝐅𝐨𝐫𝐠𝐞𝐭 𝐓𝐨 𝐒𝐮𝐛𝐬𝐜𝐫𝐢𝐛𝐞 ►►
https://www.youtube.com/channel/UC9HlQRmKgG3jeVD_fBxj1Pw/videos
LIKE | COMMENT | SHARE | SUBSCRIBE
FreeWebsiteCode.com tries to provide HTML, CSS, SCSS, JavaScript, React, Android Studio, Java, PHP, Laravel, Python, Django, C#(C Sharp), and ASP.net-related projects 100% free. We try to make learning easier. Free Website Code always tries to give free projects to those who are new learners. Free projects and source code will help to learn easily. They can save time and learn more.
Follow Us
Thank You,
Stay with FreeWebsiteCode.com
Share the post if necessary.
FreeWebsiteCode.com tries to provide HTML, CSS, SCSS, JavaScript, React, Android Studio, Java, PHP, Laravel, Python, Django, C#(C Sharp), and ASP.net-related projects 100% free. We try to make learning easier. Free Website Code always tries to give free projects to those who are new learners. Free projects and source code will help to learn easily. They can save time and learn more. In this post, we share a free portfolio project website code with HTML and CSS. This free code portfolio contains a single landing page with a responsive design. In this post, we get a free best carpenter and craftsman service website designed by FreeWebsiteCode with HTML, CSS, Bootstrap, and JavaScript.