java script is basically a scripting language. those programming languages are called scripting languages whose codes can be run without compiling. for example, c, java, and programs written in these languages have to be compiled first to run. programs are written in a scripting language and run directly without compiling them. You Should Still Learn JavaScript.
There is no website that does not have JavaScript code. Like many websites we browse, almost all of them have JavaScript code. It takes three basic things for a website. HTML, CSS, and JavaScript. Content is written with HTML. These contents are arranged with CSS. And with JavaScript, different functionalities are added. What will happen if you click on a button, where the mouse will be taken, what will be the animation, and what errors will appear if you write incorrectly in any form, these are usually done with JavaScript. These are basically basic things. Java scripts are no longer limited to this basic thing. What can currently be done with JavaScript, so we will know from this article?
Why You Should Still Learn JavaScript in 2022?
StackOverflow conducts a survey every year. so according to this survey, the most commonly used programming language is javascript. Javascript has been in the first position for 9 years!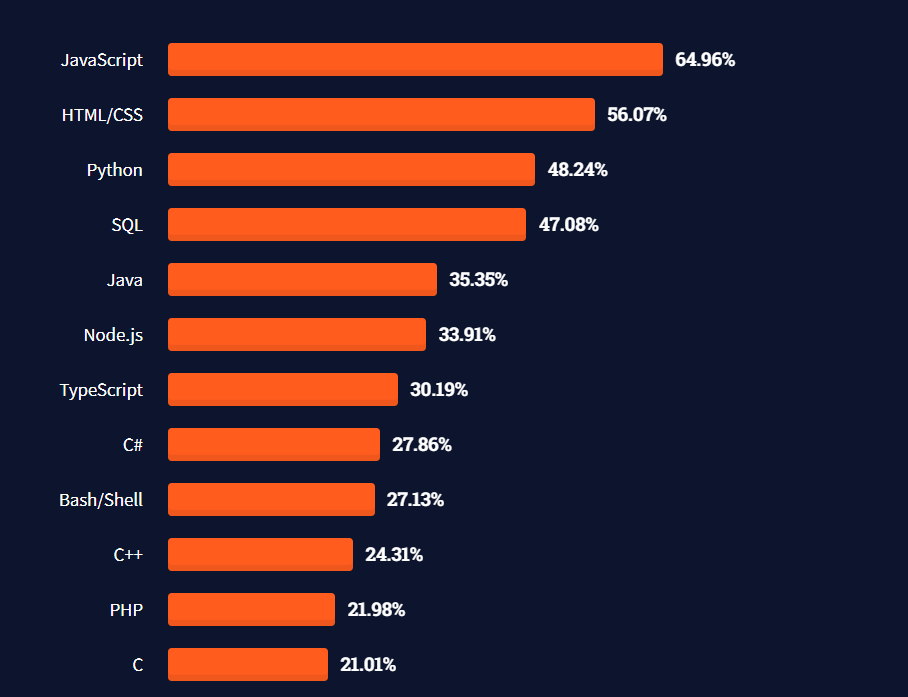 Many libraries and frameworks can be used to create a website. The most widely used libraries and frameworks are the javascript frameworks. On top is React.js followed by jQuery, Express, etc.
Previously, JavaScript was only used to write client-side (browser) code. Now backend code is also written with JavaScript. JavaScript does not lack libraries or frameworks. At the time of writing this article, JavaScript has a total of 1,444,231 libraries. There is a possibility of a further increase by the end of the article! Each of these libraries is for one purpose. For example, there is a Node.js platform to run JavaScript code on the server side. There are a lot of libraries.
JavaScript was born for its user experience and user interface. Currently, the most popular user interface library is React. This library created by Facebook quickly gained popularity. There are also Vue.js, Angular, jQuery, etc.
The programming language that is also most commonly used to create cross-platform mobile apps is this JavaScript. Popular cross-platform mobile app development frameworks based on JavaScript are React Native, Ionic, Sencha, PhoneGap, etc. The same code works on both Android and iOS platforms.
Those who work with data can see D3.js, Recharts, Victory, etc. for data visualization. Most of today's big projects require data visualization. These libraries will then work.
There are also many JavaScript libraries for machine learning. TensorFlow.js machine learning models can be created with JavaScript. If he wants the model, he can also run on the client side or on the server-side using node.js.
At the present time, if someone wants to get a job easily, then I would say to learn JavaScript. After learning basic JavaScript, then if you learn any of the above frameworks well, the job will be available fairly easily. If someone asks me which framework to learn, I would say learn React. Besides, if someone wants to write server-side code with JavaScript, I would say to learn the idea about Node.JS and then Express.js.
Javascript is a tool. using this tool you can do anything you like. the use of this language is increasing day by day. so if you learn, you can use it.
where to learn from:
to learn basic javascript:
Apart from this, the frameworks for other libraries and frameworks have their own tutorials on YouTube, and Udemy, all of which have great free tutorials. You can learn with a little time.
the first c program
you need a computer and a compiler to do programming. there are a few things we don't know about before writing the first program. such as compilers, text editors, etc. compiler c is a general-purpose, structured programming language. computers or any machine can only understand 0 or 1. this is what we call the binary number system. …March 4, 2015
getting started in the cotlin programming language
NOW IN MOST ANDROID-RELATED JOB REQUIREMENTS, COLIN IS MENTIONED. THOSE WHO WANT TO BUILD A CAREER AS AN ANDROID DEVELOPER CAN LEARN KOTLIN. APART FROM THIS, THOSE WHO ARE CREATING ANDROID APPS USING JAVA PROGRAMMING CAN ALSO LEARN KOTLIN. KOTLIN RUNS ON JAVA VIRTUAL MACHINE OR JVM. SO THE KOTLIN CODE…September 9, 2021
getting started with java programming
java programming language is a very simple language. simple and simple. everything is made for coding or for making soft, now only you will use and make soft. don't ask me again how many you've made. java is also very easy to learn. there are thousands of tutorials on the internet. you are just…
All Links in Below:
---
---
---
Join Our Freewebsitecode Facebook Group to get an instant update for projects, templates, design resources, and solutions.
Join Our YouTube Channel & Subscribe with Bell Icon for New Video:
Join Our Official Facebook Page For the Latest updates All Code Projects are Free:
Visit our service page to get premium services.
Free Website Code – HTML CSS, PHP, JavaScript Programming Projects For Free
Follow Us
Thank You,